Automation and Assurance of the AI Driven Campus with Juniper Networks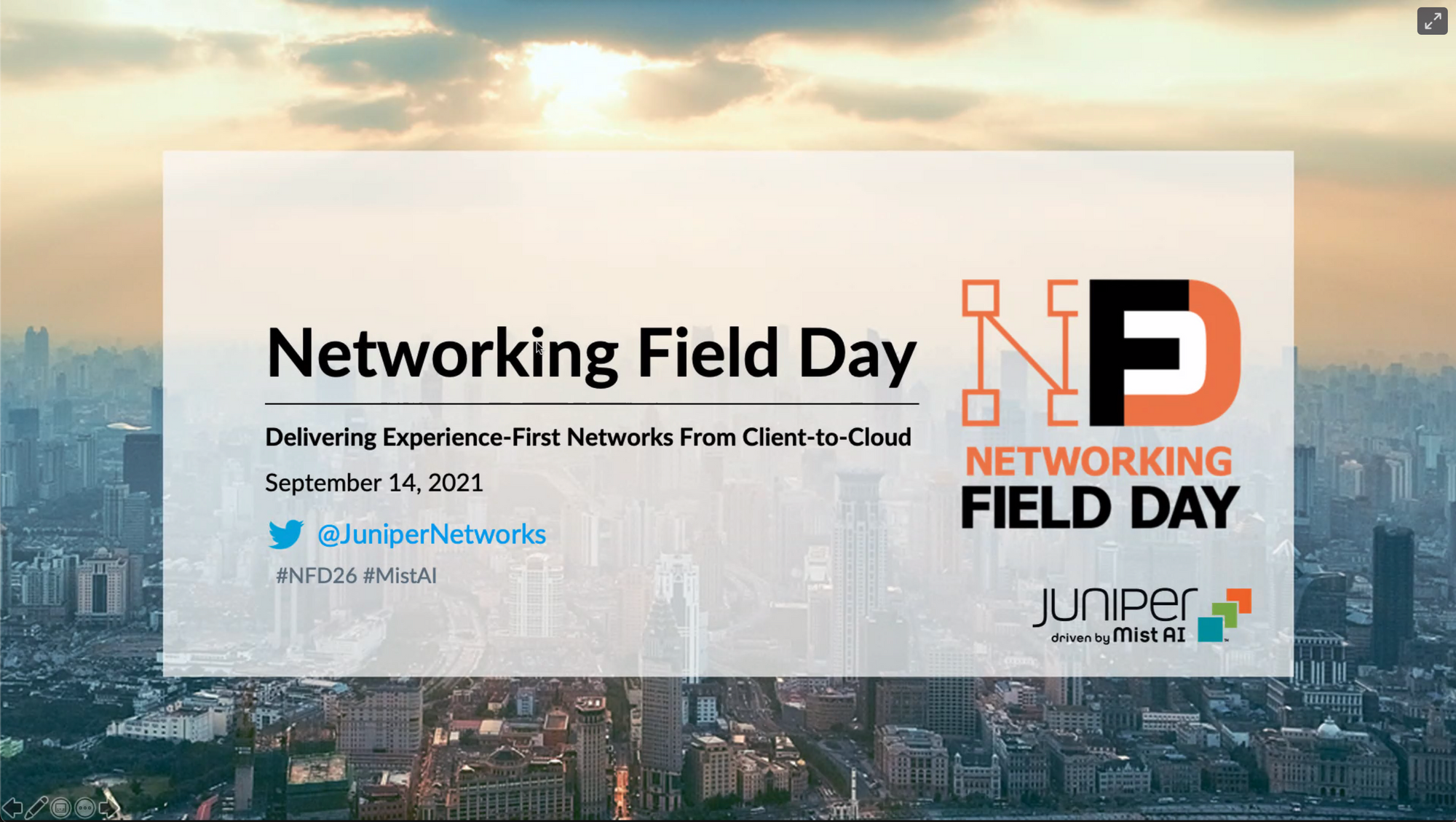 I was fortunate enough to attend Networking Field Day 26 along side a number of amazing delegates September 14th - 16th, 2021. Juniper Networks presented to us some updates on their latest offerings including how to ensure good user experiences with Mist AI, some new campus fabric design capabilities with Mist Cloud, microsegmentation capabilities with group based policies then closed with how to get started with REST APIs & automation. Let's dig into each!
Ensuring Experiences with Marvis and Mist AI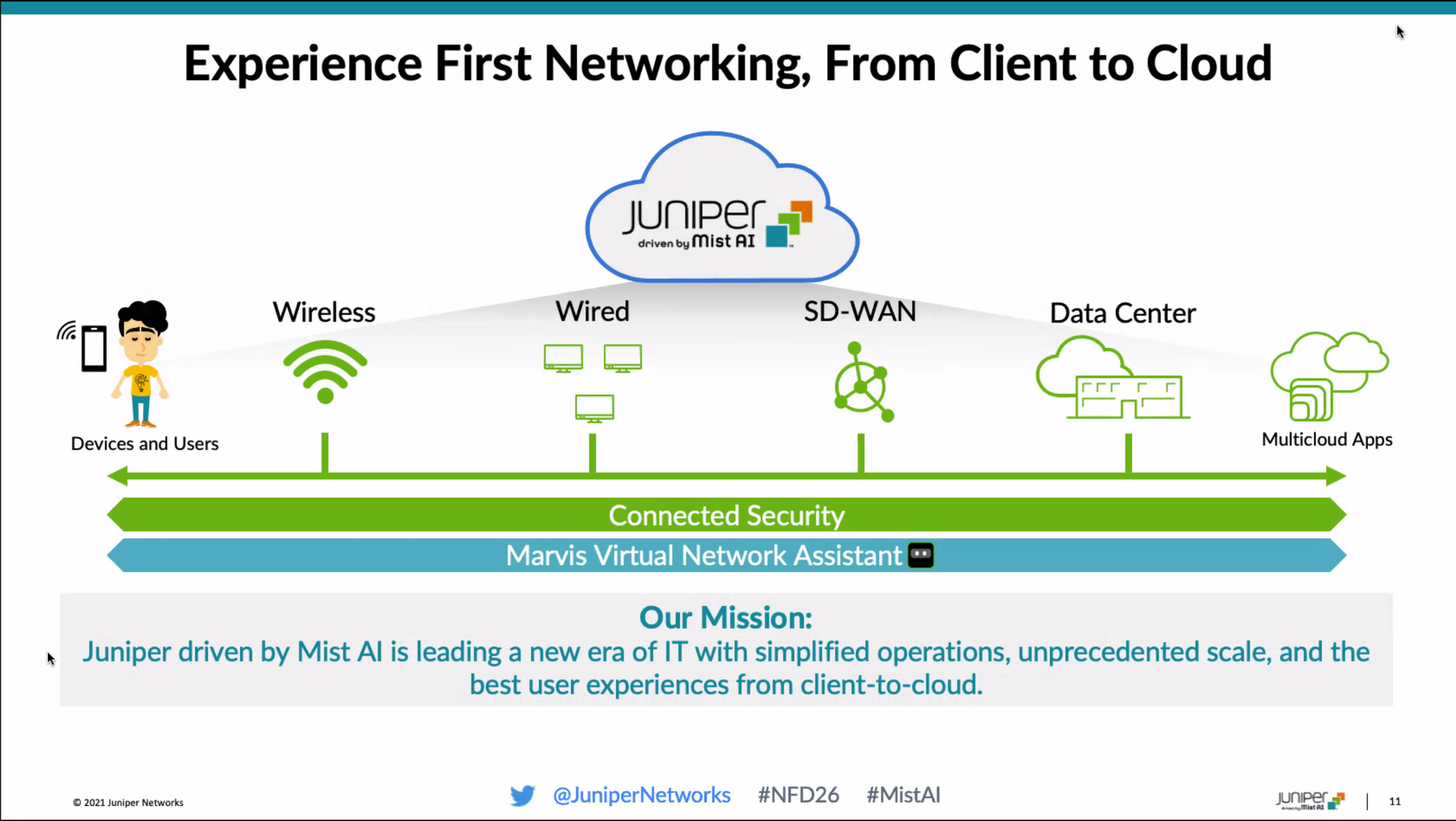 The first demos from Juniper showed off new functionality in Marvis, a virtual network assistant with powerful natural language logic and an intuitive graphical interface. Some examples of the additional functionality with Marvis are:
Identifying why wireless clients are failing to connect
Finding bad ethernet cables to access points and users
Determining the presences of issues with DNS and ARP
Diagnosing RF capacity & coverage issues
Spotting WAN uplink problems
Imagine being told in plain english either by chat or clearly displayed in a web interface these types of issues? This represents the true promise of AIOps, leveraging AI and ML to convert monitoring and state data to produce real, actionable insights. It seems Juniper is really leading the charge with their MIST platform and definitely differentiate themselves with Marvis. It's difficult to describe exactly how this looks and just how powerful it is, so see below the demo from NFD.
Automated EVPN/VXLAN in the Campus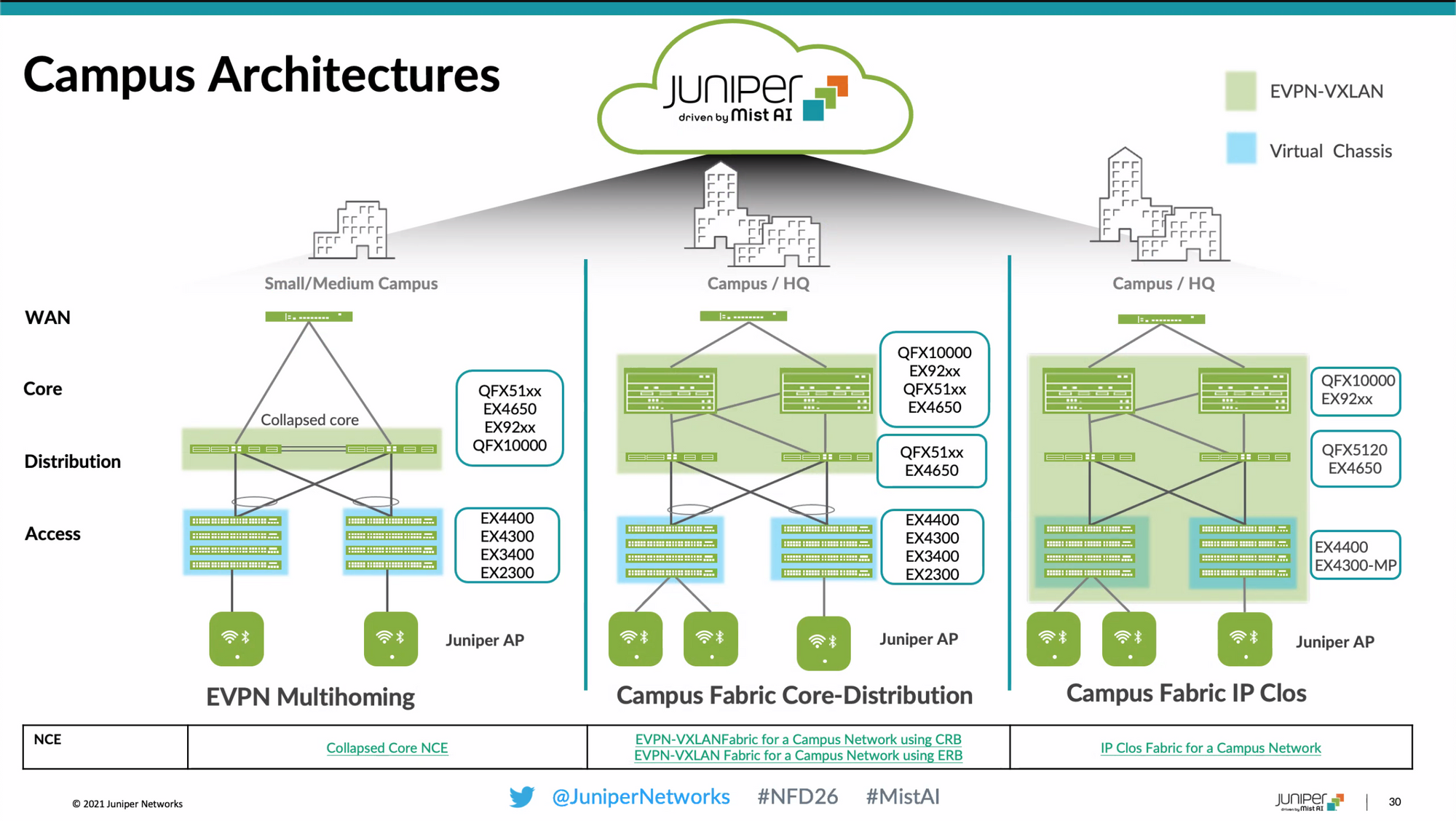 I wrote about this EVPN/VXLAN in the campus back in 2019 but the demand for these capabilities is getting even greater today. I pointed out back then that Arista had baked these capabilities into their LAN/PoE switching platforms but they certainly aren't the only ones. One of the larger obsticles to deploying EVPN/VXLAN within the campus is the level of complexity from both a configuration and operational standpoint.  Juniper is simplifying deployment with some improvements they've made to their Mist Cloud to include "canned" campus fabric templates that make provisioning EVPN/VXLAN in the campus a snap. The process goes something like this:
Select the EVPN topology you wish to deploy
Select the nodes you wish to fulfill each role at the core, distribution and access layers
Fill in the network elements like VLANs, VRFs, DHCP info, etc
Confirm the network to deploy
Let Mist deploy the design as defined
There's a few bits of info required in each stage but you get the idea. You can tell Juniper worked hard to break down things into very simple terms to "wizardize" deploying a prescriptive EVPN/VXLAN campus in no time. If you want to see how this happens in action, check out the demo below.
Microsegmentation with Group Based Policies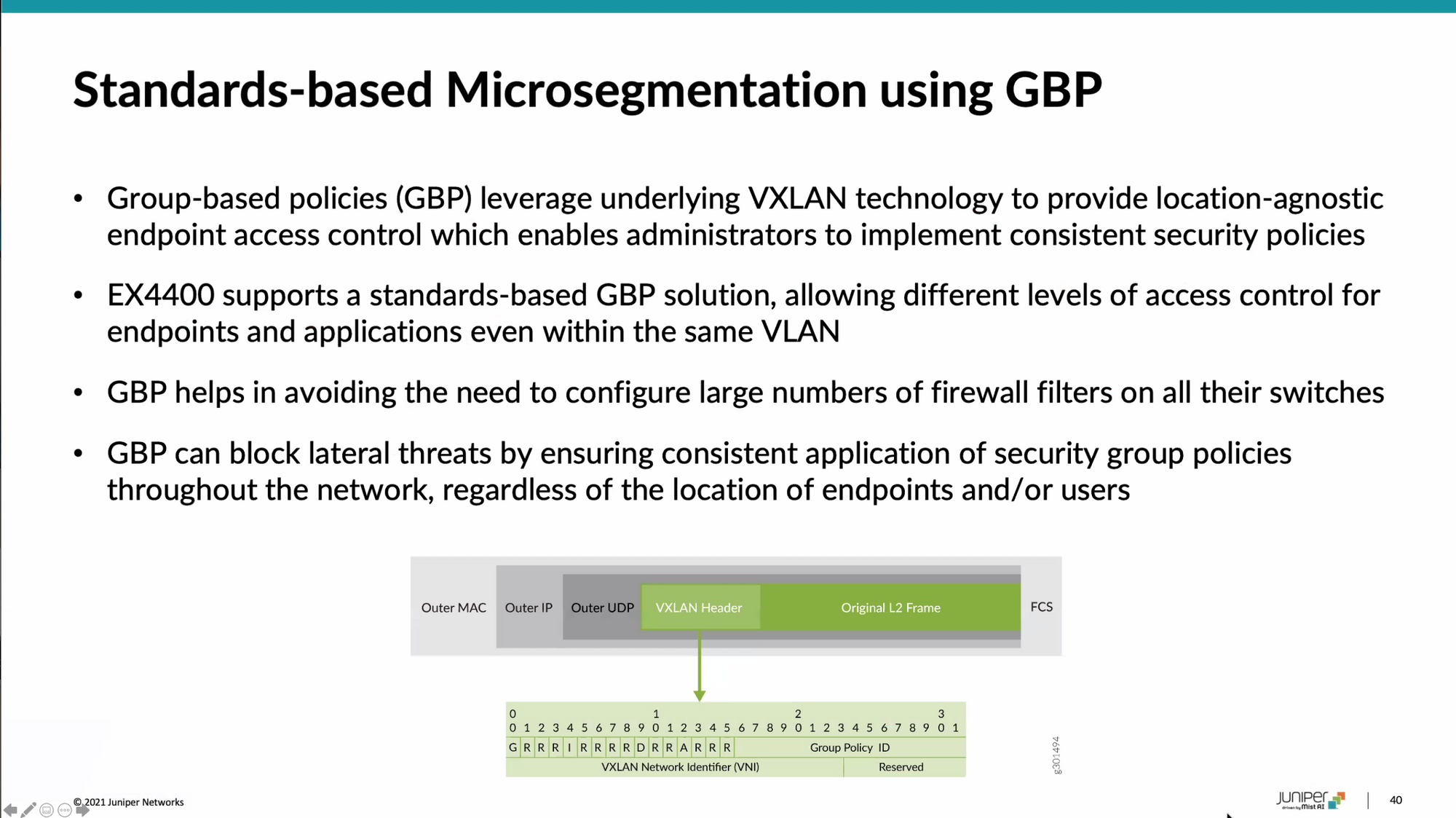 Microsegmentation is a hot topic as organizations seek to add additional security controls to their networks. This Group Based Policy (GBP) functionality from Juniper allows operators to easily segment users, groups and devices into endpoint groups which then can be managed with policies to limit acceess only to what they are enabled to. This is a powerful means to create access policies without the need for an additional firewall acting as an internal segmentation gateway on the LAN. More info from Juniper on this functionality here, demo below: https://www.juniper.net/documentation/us/en/software/junos/evpn-vxlan/topics/example/micro-segmentation-using-group-based-policy.html
Getting Started with Automation & Orchestration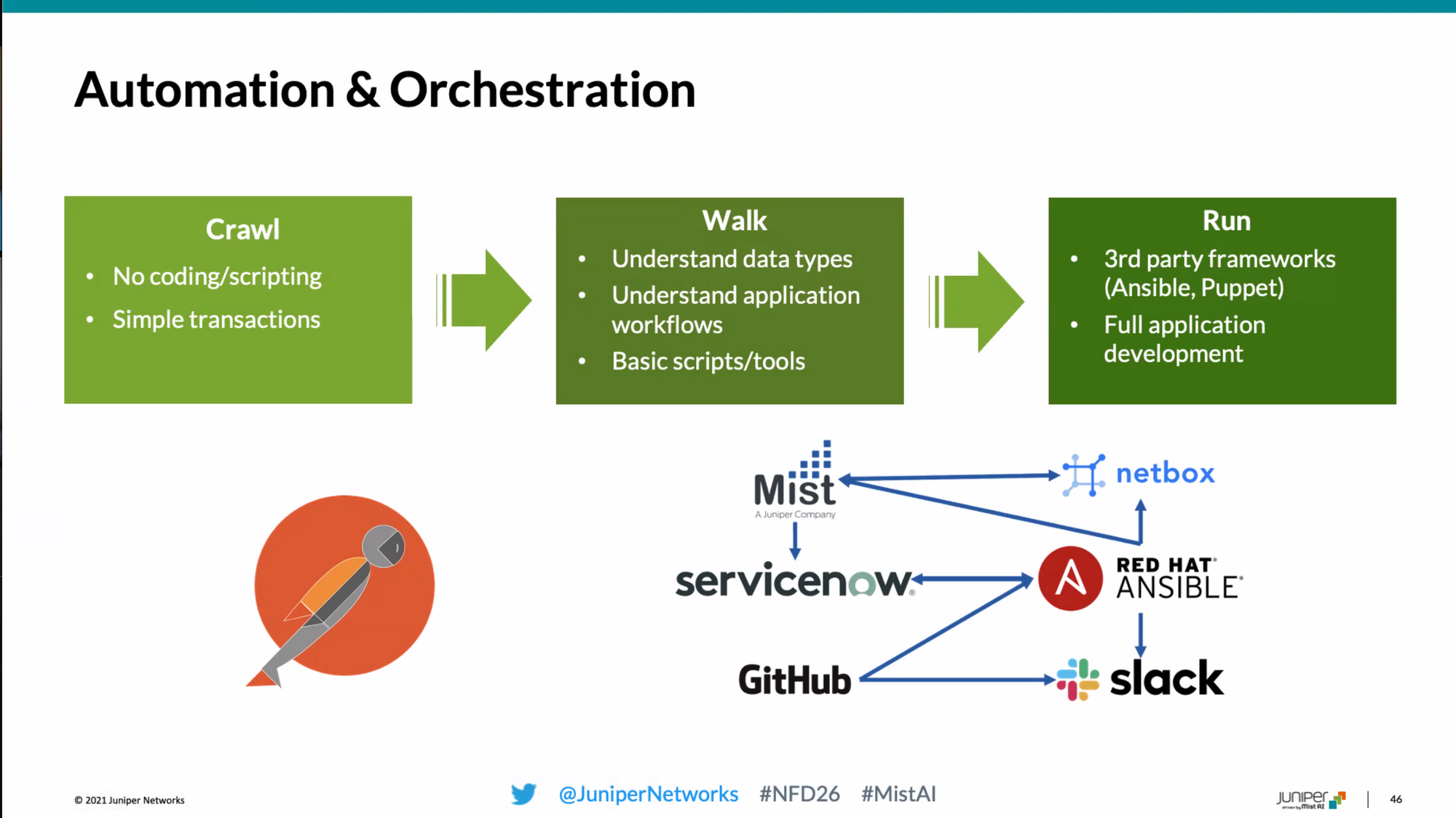 Juniper capped their event with a nice overview on how engineers can get started with orchestration and automation tools. This was a great overview for those just getting started with automation and wanting to learn more. I really thought the suggestion to use Postman to start to learn more about the structure and utilizing simple transactions was very good!
Really great presentations from Juniper and they have added a lot of powerful functionality to their Mist AI platform since NFD24 when I saw them present last. They seem to be betting the future of Juniper's enterprise platforms on Mist which from what I've seen, is a wise bet indeed.
More NFD26 Content From My Esteemed Delegate Peers!
Tim Bertino - Experience First Networking w/ Juniper
Girard Kavalines - NFD Day 1 Recap
Ed Horley - Juniper and network automation and using Mist API
Pete Welcher - NFD26: Juniper Adds Sophisticated MIST Functionality