I was honored to attend Cloud Field Day 16 this year as a delegate though a bit disappointed I couldn't be there in person. Unfortunately I had an office move the same week but I was glad I could sneak away to participate over Zoom. If you're not familiar with Tech Field Day events, they bring together experts as delegates from various fields to grill vendors on their offerings to tease out the true value that comes with deployment and ongoing operations of their products. The events cover many topics in different areas of tech including Cloud, Storage, Mobility, Networking, Security and more. If you haven't checked them out, you need to.
One of the event's highlights for me was Fortinet's presentation on their FortiGate Cloud Native Firewall Service. The Fortigate CNF solution is designed to provide organizations with the ability to secure their cloud infrastructure and applications in a cloud native way, which affords scalability and flexibility to meet an organizations growing needs.
FortiGate CNF is built on a microservices architecture to provide a highly scalable security service offering. This enables the ability to quickly add capacity on demand, making it an ideal solution for organizations that require the flexibility and agility of cloud native security infrastructure. The service can be deployed in a matter of minutes, which eliminates the need for time consuming manual configuration and management. It is also designed to easily aggregate security AWS availability zones and virtual private clouds (VPCs) in an AWS cloud region. Also notable is that is uses AWS Graviton instances to deliver better price performance than other offerings.
Another major benefit of Fortinet's Cloud Native Firewall Service is that it provides organizations with the ability to enforce their security policies consistently, regardless of where their applications and data reside, via the Fortinet Security Fabric. This is becoming more important with the advent of work from anywhere and controlling user access to applications in any context they might be in.
During the presentation, Fortinet also demonstrated the capabilities of their solution in terms of visibility and control. The solution provides organizations with real-time visibility into the traffic that is flowing through their cloud firewall. This allows them to quickly identify and respond to security threats, and also helps them to enforce their security policies more effectively.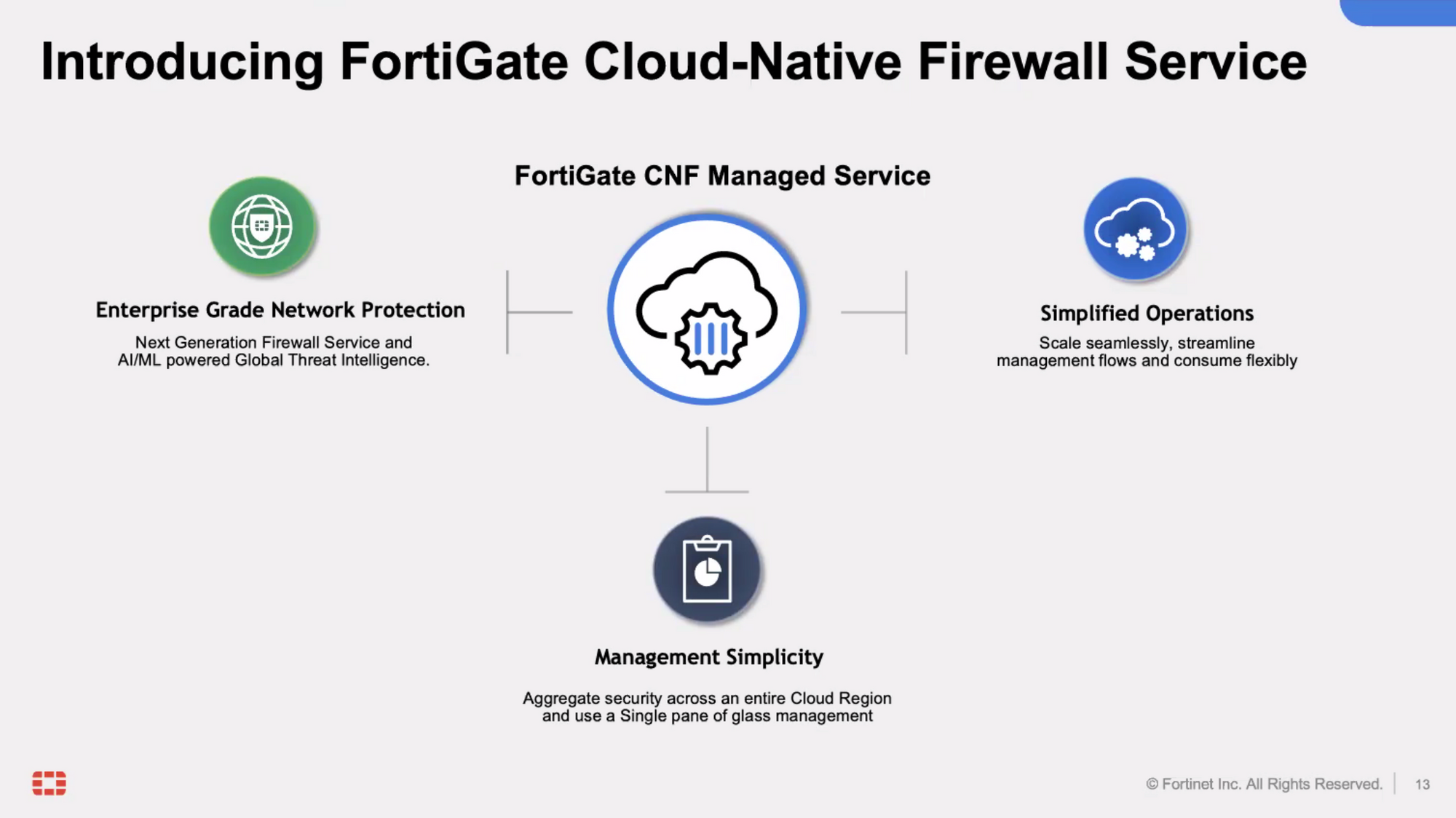 A key aspect of Fortinet CNF is ease of use. Fortinet has designed it to be easy to deploy and manage, even for organizations that do not have a lot of experience with cloud technology or security. It can be deployed and managed through a simple, web-based interface, and it also provides organizations with the ability to automate many of their security tasks, such as policy enforcement and threat detection.
In conclusion, Fortinet's Cloud Native Firewall Service is a solution that provides organizations with the ability to secure their infrastructure and applications, while also providing agile scalability and flexibility to meet their growing needs. Whether you are a large enterprise or a small business, the Fortinet CNF is a potential solution for organizations that are looking to move to a cloud native security posture and ensure the security of their data and applications.
Check out more content from my fellow delegates also at CFD 16:
Jordan Villarreal - Cloud Field Day 16 - Day 0
Adam Fisher - Networking Takes Center Stage at Cloud Field Day 16
Hin Tang - Fortinet Red vs Blue for Cloud Native Visibility and Protection for the Application Lifecycle
Gina Rosenthal - Cloud Field Day 16 #shorts
DISCLAIMER: I was fortunate to participate in Cloud Field Day 16 as a delegate by Gestalt IT who paid for snacks and sent me some cool swag from the presenting participants. I did not receive any compensation to attend this event and I am under no obligation whatsoever to write any content related. The contents of these blog posts represent my personal opinions about the products and solutions presented during CFD.